Build and Launch a New PrestaShop Store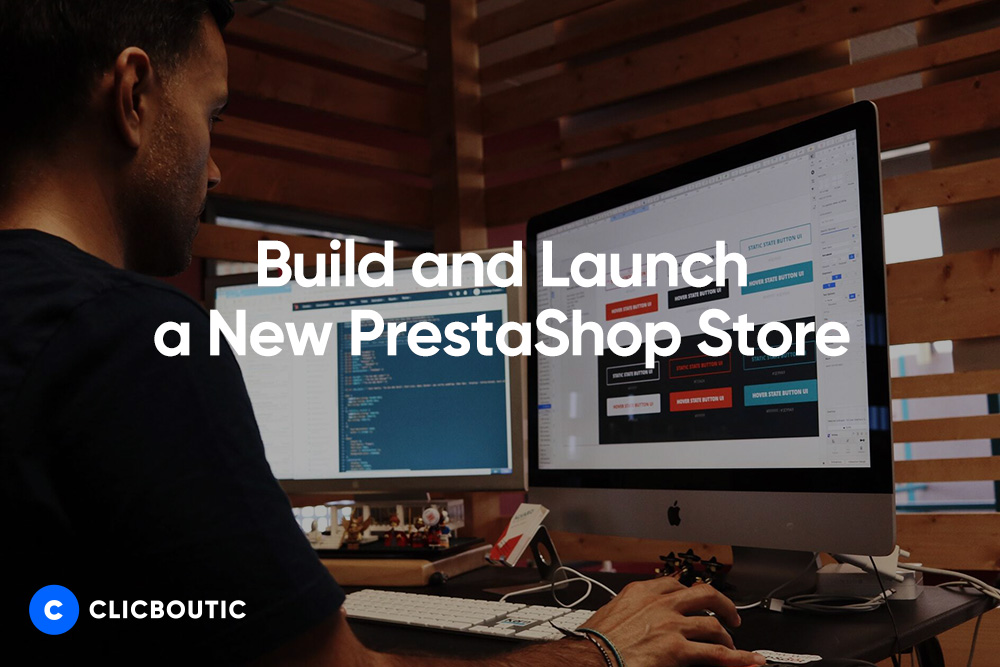 Installation and Setup For Your PrestaShop Store
Start making sales with a customized PrestaShop store
Partner with the leading PrestaShop experts
Enjoy the peace of mind of our Money-Back Guarantee
---
Sell More Products With a Powerful PrestaShop Store
Bring your ecommerce vision to life with a high-quality PrestaShop store that's all set to make sales. We take care of the entire installation and setup process, so you can start selling your products sooner.
Whether you're completely new to selling online or have experience in ecommerce, our PrestaShop experts can help you dominate the digital world with a first-class PrestaShop store that sets you apart from the online competition.
Turn dreams into dollars
Whatever you're selling, we'll create a beautiful PrestaShop store that's built for business growth. Our PrestaShop sites help SMBs like you take on the ecommerce world, with everything you need to convert browsers into buyers.
We'll build a PrestaShop store that's designed to deliver the best results for your business, with everything you need to grow your online traffic, increase your conversion rate, and boost your bottom line.
Spend less time on tech
As a business owner, your time is precious. We're here to take care of the 'technical stuff', so you have more time for everything else. From theme installation and customization to store management settings and product setup, we'll deal with all the moving parts to build and launch your online store.
By taking the hassle out of building and launching a PrestaShop website, we'll set you up for success with an online store that's optimized for sales and business growth. Meanwhile, you can stay focused on keeping your business running as smoothly as possible.
Stand out from the digital crowd
Attract more customers to your PrestaShop store with a site that's a cut above the rest. Our websites deliver a strong online presence designed to get you noticed in the competitive world of ecom. Professional, engaging, and a perfect fit for your brand - we'll make sure your store is built to shine online.
From beautiful design to powerful functionality and an unbeatable user experience, our PrestaShop specialists will create a high-performing online store that ticks all the boxes. And with features designed to optimize your website conversions, you'll soon see the difference to your bottom line.
Deliver a seamless user experience
Create a stress-free shopping journey that's memorable for all the right reasons. Our PrestaShop website experts will help you deliver a smooth user experience that keeps visitors engaged throughout their website visit, while ensuring they keep moving all the way to purchase.
By combining eye-catching design with exceptional functionality and intuitive navigation, we'll ensure your website visitors enjoy a seamless journey across your online store, leading to a higher purchase rate and more returning visitors.
---
Your End-to-End PrestaShop Store Setup
From idea to launch and beyond
Our PrestaShop experts are on-hand from day one to bring your business ideas to life, creating a beautiful PrestaShop store from scratch and taking care of every detail for a seamless launch.
Customized store management
When it comes to managing your online store, we think simple is best. From products and inventory to themes and settings, we take the complexity out of store management, with a backend that's beautifully configured to suit your needs.
Theme installation and customization
We know that effective design does more than just look pretty. Our conversion optimization method creates visually-stunning online stores that bring powerful results for your business.
Made for mobile
Provide an exceptional user experience on mobile, with a responsive PrestaShop store designed for any device. Our mobile-friendly sites help you capture your mobile-using customers, with an intuitive journey that makes purchasing oh-so-simple.
Convert on any browser
Whether your customers are searching for a product on Safari or finding a bargain on Firefox, your PrestaShop store is set up for success on any browser. We offer cross-browser compatibility as standard to maximize your chance of conversion.
Two rounds of revisions for peace of mind
We're not satisfied until you are. With two rounds of revisions on your PrestaShop store build, enjoy the confidence of knowing you can request changes, tweaks, and edits for guaranteed happiness.
---
Backend to Frontend: Your Complete PrestaShop Solution
As the experts in PrestaShop, we know how to create websites with the wow factor. Our PrestaShop sites not only look amazing, but they provide powerful functionality that lets you manage your store with ease.
From a super-smooth backend to a fabulous frontend, you can trust Clicboutic to create a PrestaShop store that nails it from every angle.
PrestaShop Backend Configurations
We'll delve into the backend of your store to ensure it's set up for success. That means making it simple for your store to run smoothly and enable simple management of your products, inventory, theme, settings, and any other information.
Our backend configurations include:
Importing up to 30 products into your store
Creating Collections and categorizing products
Installing and customizing your PrestaShop theme with your branding
Setting shipping rates
Taxes
Integrating payment methods
Configuring checkout processes
Developing a navigation structure (including level deep menus or mega menus when relevant)
Setting up notification emails with your branding
Enabling automated abandoned checkout emails with Klaviyo integration
Adding secure badges to your store to increase trust
Klaviyo integration along with 5-6 basic automated follow up emails.
3-5 free app integrations to provide additional features, such as customer reviews
PrestaShop Frontend Configurations
Wow your visitors from the moment they land on your site. Our front end configurations cover everything your visitors see when they arrive on your PrestaShop store.
Our frontend configurations can include:
Installing and customizing your PrestaShop theme
Professional design for your website
Integrating your branding
Adding products and content
Two rounds of revisions and edits
---
All the Support You Need
Choose from a range of optional extras to enhance your PrestaShop site - and take the stress out of selling online.
Products setup
Content pages
Modules installation
PrestaShop hosting
---
Why choose Clicboutic to build your PrestaShop store?
Your on-demand tech team
Think of us as your personal tech team, ready to step in and tackle your PrestaShop tasks so you can keep running your business. Our technical expertise and vast ecommerce experience mean we're the ones to call when you need support with your online store.
The PrestaShop experts
For over a decade, we've been helping PrestaShop owners reach their goals. As the specialists in all things PrestaShop, we know how to solve your ecommerce challenges and build the successful online store of your dreams.
Bootstrapped business builders
As bootstrapped entrepreneurs ourselves, we know the headaches and hassles of running an online business firsthand. By combining our knowledge of PrestaShop with our commercial know-how, we help SMBs boost efficiency and business growth.
Fast turnaround
Hate to wait? In the fast-paced world of ecommerce, we understand the need for speed. Our quick turnaround gets you up and running in no time, with an on-demand support service that you can rely on.
Satisfaction guaranteed
Your happiness means a lot to us. That's why we offer a 30-day Money Back Guarantee. By going the extra mile, we make sure you're 100% happy with our services - which makes Clicboutic the PrestaShop partner you can rely on.
More bang for your buck
We think tech support for small businesses shouldn't come with a big price tag. Our cost-effective solutions make it easy to get your PrestaShop store running optimally without breaking the bank.
Starting at
699€
Turnaround
14 days
Get Started Now
Need custom work? Chat with an Expert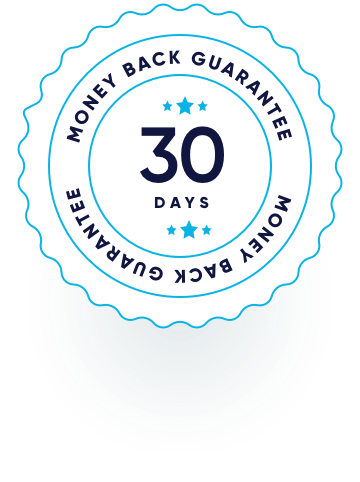 100% Satisfaction
Or we give you a full refund!No questions asked.
3,000+ projects handled by our
experts with a 4.8 average star rating

Highest rated

People love us!
Trusted by Top Pretashop Merchants
Clicboutic experts have been supporting Prestashop entrepreneurs in development, design & marketing for more than 10 years.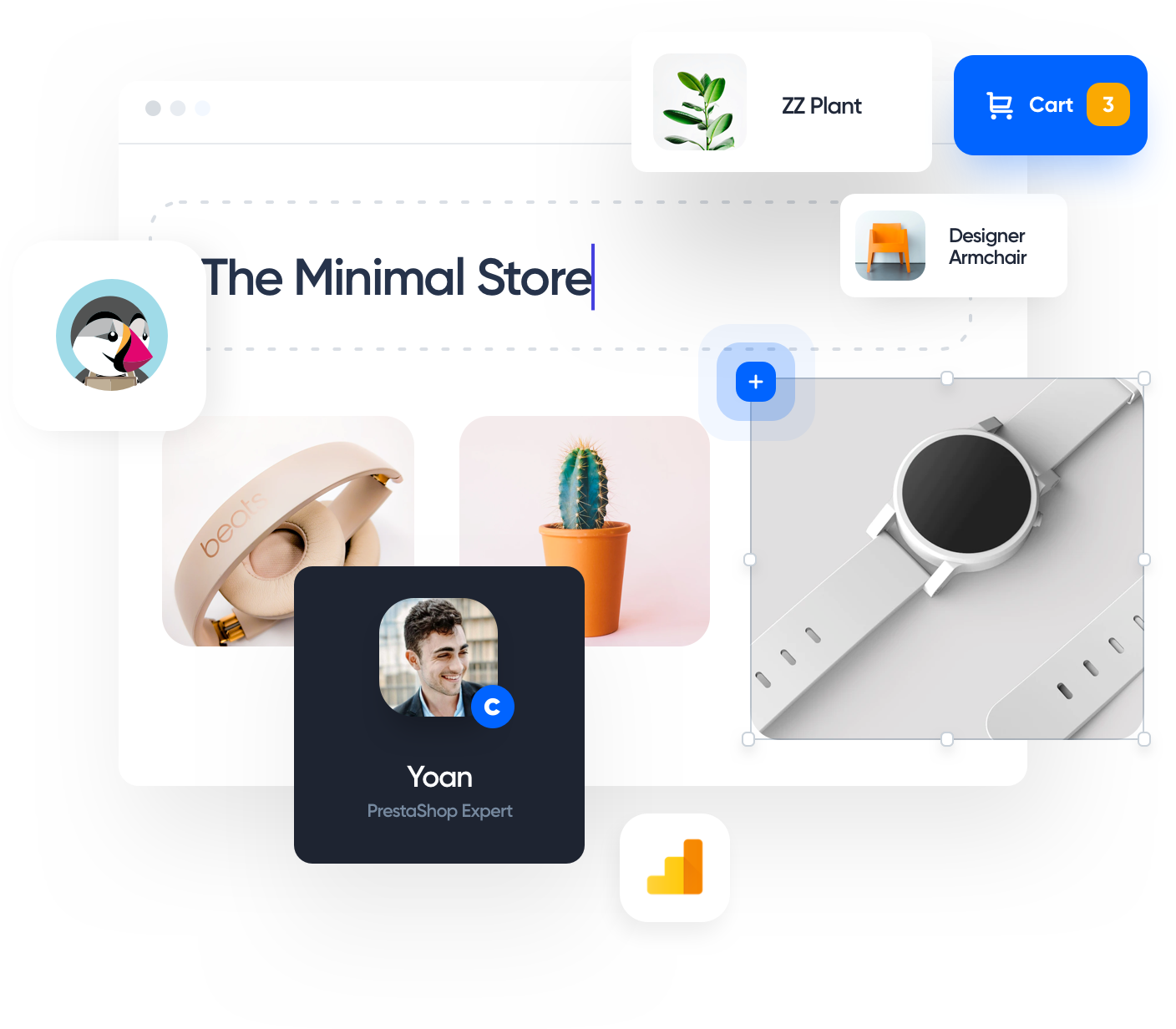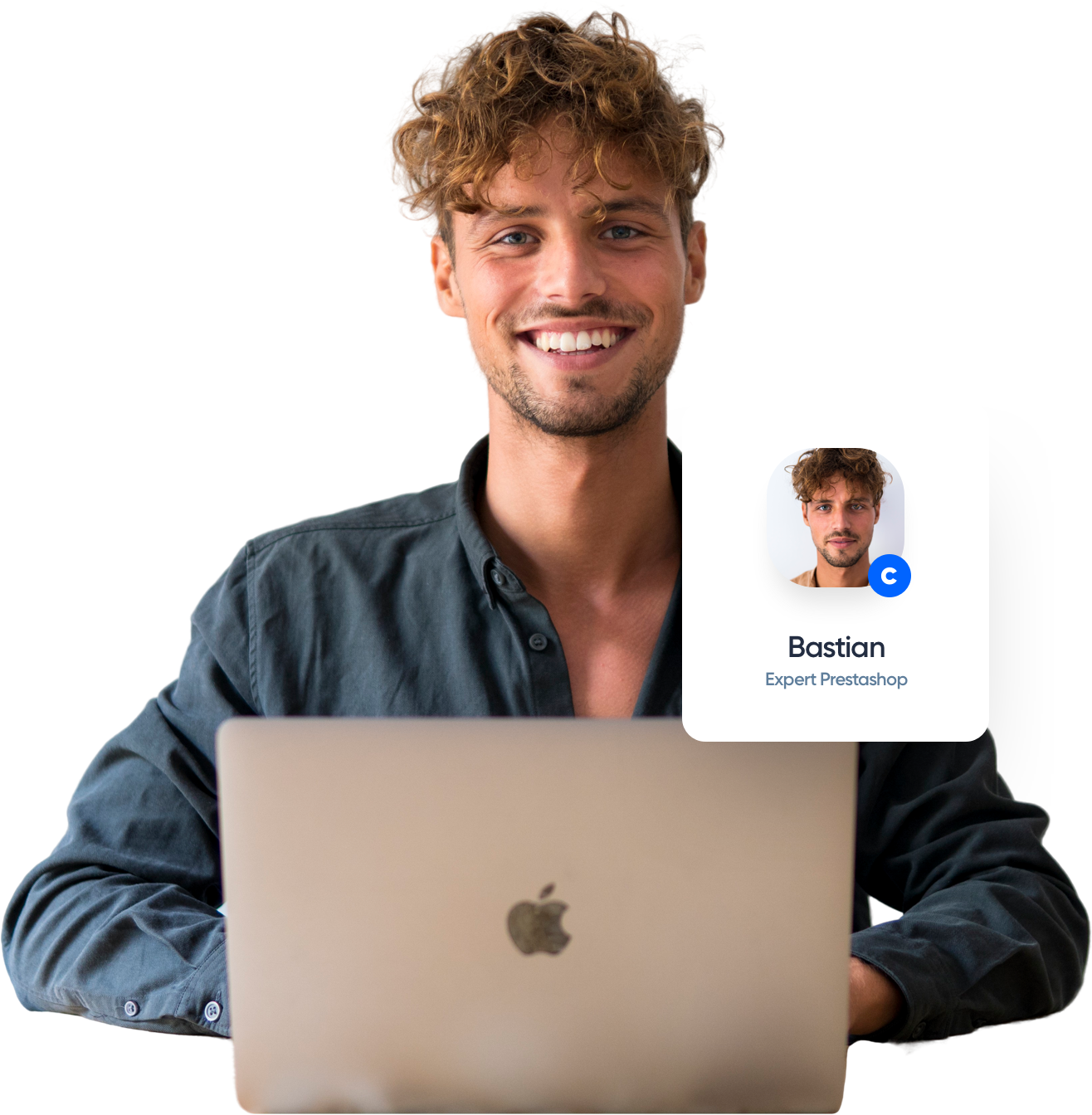 Need Something more Custom?
Submit a project to connect with a Prestashop Expert and get a free price quote.