PrestaShop SEO Plans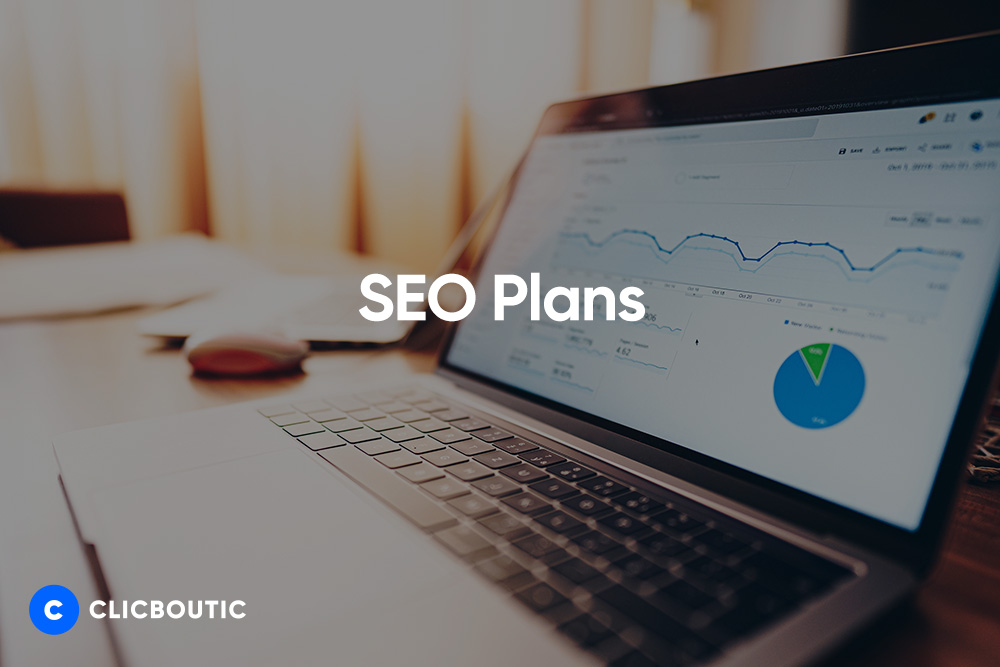 End-to-End SEO Management for PrestaShop Stores
Increase website traffic
Improve sales revenue
Customized SEO plans
---
Drive More Traffic to Your PrestaShop Store
Power up your search engine rankings and quickly attract purchase-ready customers to your PrestaShop site.
Our PrestaShop SEO Plans are designed to generate targeted, high-quality traffic to your online store, using best-practice search engine optimization techniques that act like rocket fuel for your business results.
More traffic, more sales
SEO is the not-so-secret weapon that gets more visitors to your website. By helping you attract the right kind of site visitors - the ones who are most likely to purchase from your store - our customized SEO plans are designed to boost your revenue as well as your rankings.
What's more, our SEO plans for PrestaShop provide a long-term solution that keeps on generating highly-targeted traffic to your store. So you can focus on converting leads and growing your online business while we take care of the SEO stuff.
Customized SEO strategy
When it comes to SEO solutions, there's no such thing as 'one size fits all'. That's why we create customized SEO plans that address your specific challenges, so you can effectively optimize your website and attract a steady stream of ready-to-buy visitors.
By developing a personalized SEO strategy for your PrestaShop store, we can deliver targeted leads straight to your ecommerce site, while ensuring your brand is reassuringly easy to find by your ideal customers.
PrestaShop SEO experts
As experts in all things PrestaShop, we create SEO solutions exclusively for PrestaShop stores. Our SEO plans are customized to the PrestaShop platform, meaning you benefit from targeted solutions designed to maximize your ecommerce results.
End-to-end SEO management
Thanks to Store Hero, successful SEO is now simpler than ever. Our SEO specialists will take care of everything you need to get your PrestaShop website climbing the search engine rankings and attracting high quality leads to your online store. From keyword research to technical SEO, you can leave the SEO to us and stay focused on your business.
Detailed reporting
Get complete visibility into your SEO campaigns, so you can see exactly how your PrestaShop site is performing. We'll provide you with in-depth monthly reports outlining all the key metrics for a transparent approach that keeps you in the know.
Reach More People, Attract More Visitors
Effective SEO can supercharge the results of your online store. Armed with a customized SEO strategy tailored to your business and audience, you can get more traffic to your site, attract targeted visitors, increase brand visibility, and boost sales revenue.
At Clicboutic, we specialize in developing personalized SEO plans for PrestaShop store owners. As a result, our SEO strategies can help you:
Diversify your online traffic
Increase visibility of your brand online
Gain traffic from targeted visitors
Boost profits in the long-term
Enhance the user experience of your site
Improve your sales revenue
---
Your All-In-One SEO Solution for PrestaShop
Advanced Keyword Research
When people are searching for your products, we make sure it's your website they find. Identifying the most relevant and appropriate keywords for your target audience is the first step in developing a successful SEO campaign that delivers top results and high ROI.
Our advanced keyword research determines the best keywords for your campaign, using high volume, low competition keyword phrases that are relevant to your specific products or services.
PrestaShop Website Architecture
Mapping the right keywords to the right pages of your website means your visitors will be met with just the right content.
We'll develop your site architecture for maximum SEO results, carefully aligning the most relevant keywords to your category and product pages. This includes mapping 'buying intent' keywords to shopping pages and 'informational intent' keywords to content like your blog.
Technical SEO Audit
A correctly-optimized website can work wonders for your search engine rankings. We'll delve into your site to identify technical SEO problems that may be standing in the way of making your store a search engine superstar.
By fixing SEO issues and optimizing aspects such as metadata, rich snippets, and internal links, we make sure your site ticks all of Google's SEO boxes.
SEO Strategy
A customized SEO strategy will set you up for search engine success. We take the findings of your keyword research and SEO audits to develop a personalized, comprehensive SEO strategy designed to bring you the very best results.
Your SEO plan is unique to your business and tailored to your target audience, providing you with the tools you need to improve your search engine ranking position and benefit from more online traffic.
SEO Content Creation
Effectively-optimized content helps you unlock powerful SEO results. Our SEO copywriters and content creators will develop content designed to boost your site's SEO efforts while engaging your online audience.
From informational blog post content to keyword-optimized product pages, we'll ensure your website content is driving traffic to your site.
Link Building and Social Signals
Quality backlinks to your website from credible, relevant sites can be a valuable source of SEO goodness.
Our custom link-building and link-earning campaigns take a strategic approach to obtain the most effective backlinks to your site, using approved white hat SEO techniques. We'll also employ tactics such as guest posting and email outreach to gain more visibility.
Local SEO for Location-Based Businesses
We can put your local business out in front. Our SEO services for location-based businesses include targeted SEO activity on Google Maps, as well as citation creation and local optimization to ensure you have maximum visibility in front of your local audience.
Transparent SEO Reporting
Stay on track with your SEO activity and performance, with detailed monthly reporting. We'll keep you updated on key SEO metrics and the improvements our activity is having on your SEO results.
---
Our Step-By-Step SEO Process
Step 1: Keyword Research & SEO Audit
To kick off, we'll conduct thorough research into the SEO keyword phrases that hold the most ROI potential for your business.
Next, we'll audit your website to assess your existing SEO efforts, identify issues preventing your website from gaining maximum SEO value, and develop a plan for what needs to be done to boost your search engine rankings.
Step 2: Content Creation and Optimisation
Next, we'll review your current PrestaShop site to identify SEO content gaps. We can optimize your existing content as well as creating brand new content designed to offer maximum SEO value and help you climb the search engine rankings.
New content can include keyword-optimized blog posts to provide relevant, engaging content to your audience, as well as targeted landing pages focusing on different keywords.
Step 3: Strategic Link Building
Link building is an important part of improving your search engine rankings. We use white hat SEO techniques to build strategic links to your site from other trusted websites.
By developing a diversified link building strategy, we can help you boost your website's SEO and improve your position in search engine rankings.
Step 4: Reporting
We pride ourselves on providing transparent reporting on every aspect of your SEO activity. This means you'll get access to your SEO metrics and campaign performance for full visibility into how your website is performing.
Our monthly reports let you know exactly what's been done to boost your SEO and the impact this is having on your website traffic, search engine rankings, and keyword visibility.
---
Why choose Store Hero to manage your PrestaShop SEO?
Your on-demand tech team
Think of us as your personal tech team, ready to step in and tackle your PrestaShop tasks so you can keep running your business. Our technical expertise and vast ecommerce experience mean we're the ones to call when you need support with your online store.
The PrestaShop experts
For over a decade, we've been helping PrestaShop owners reach their goals. As the specialists in all things PrestaShop, we know how to solve your ecommerce challenges and build the successful online store of your dreams.
Bootstrapped business builders
As bootstrapped entrepreneurs ourselves, we know the headaches and hassles of running an online business firsthand. By combining our knowledge of PrestaShop with our commercial know-how, we help SMBs boost efficiency and business growth.
Fast turnaround
Hate to wait? In the fast-paced world of ecommerce, we understand the need for speed. Our quick turnaround gets you up and running in no time, with an on-demand support service that you can rely on.
Satisfaction guaranteed
Your happiness means a lot to us. That's why we offer a 30-day Money Back Guarantee. By going the extra mile, we'll always make sure you're 100% happy with our services - which makes Clicboutic the PrestaShop partner you can rely on.
More bang for your buck
We think tech support for small businesses shouldn't come with a big price tag. Our cost-effective solutions make it easy to get your PrestaShop store running optimally without breaking the bank.
Starting at
Get Started Now
Need custom work? Chat with an Expert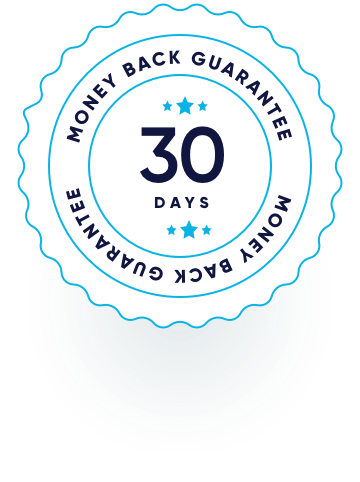 100% Satisfaction
Or we give you a full refund!No questions asked.
3,000+ projects handled by our
experts with a 4.8 average star rating

Highest rated

People love us!
Trusted by Top Pretashop Merchants
Clicboutic experts have been supporting Prestashop entrepreneurs in development, design & marketing for more than 10 years.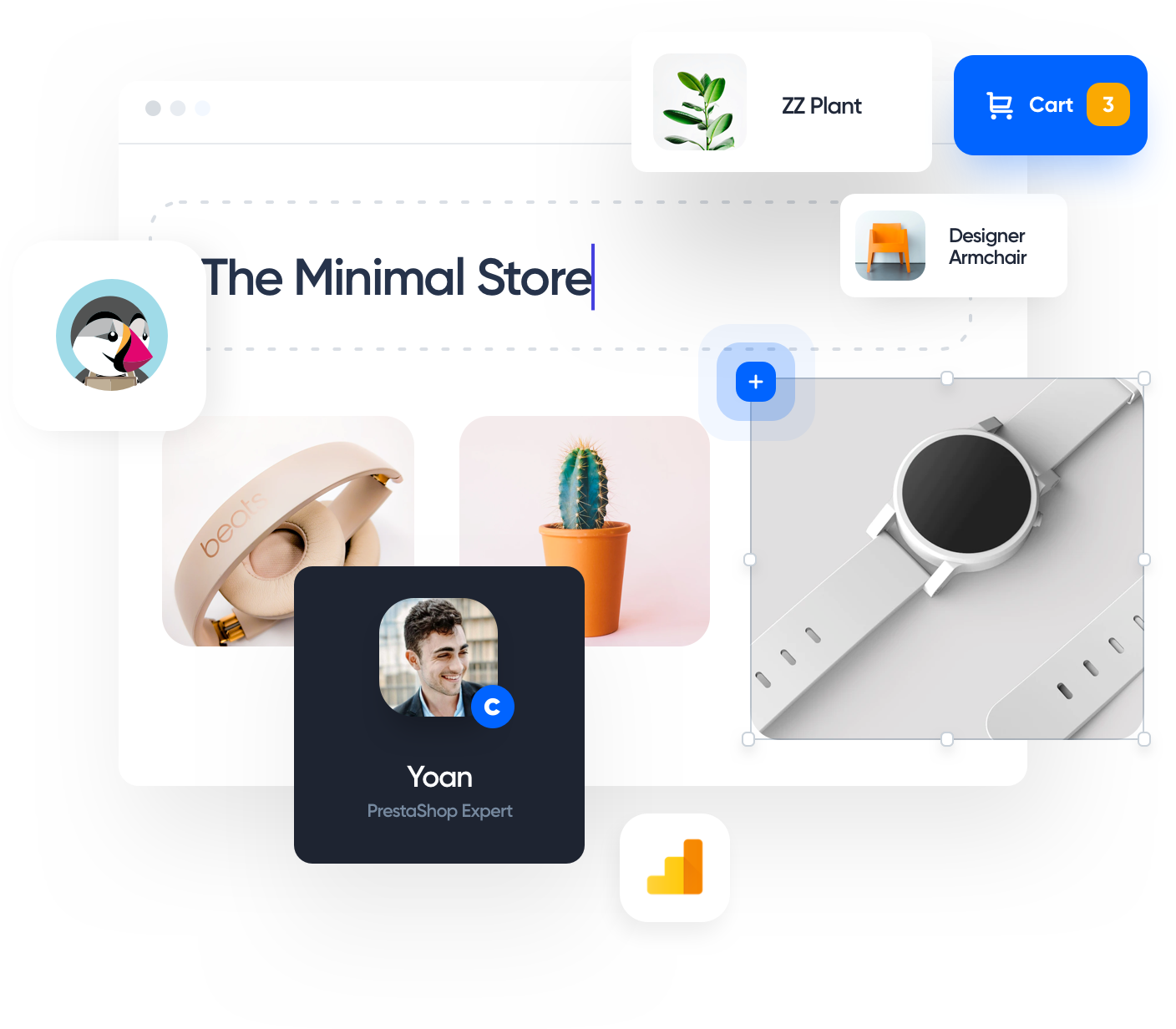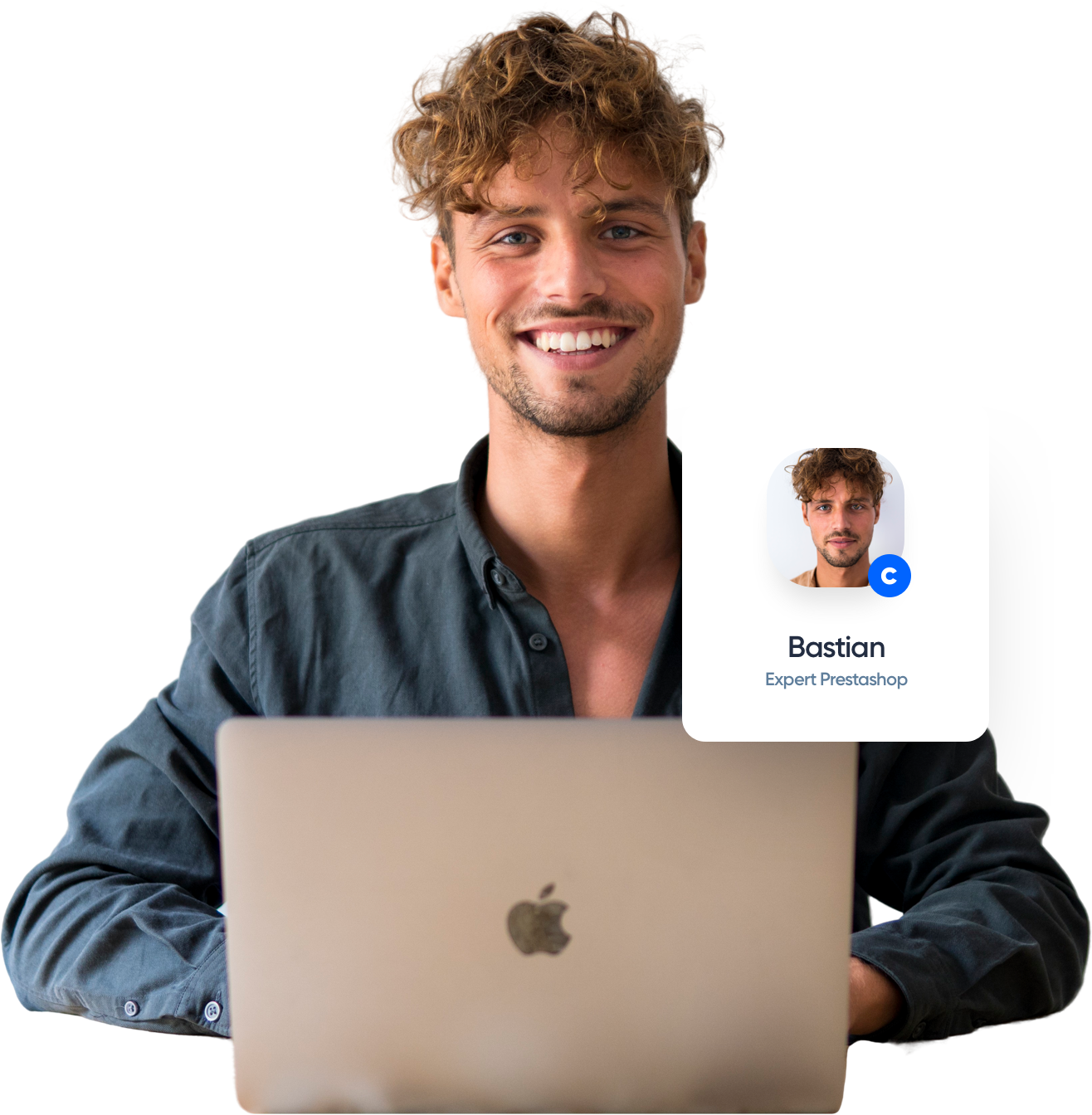 Need Something more Custom?
Submit a project to connect with a Prestashop Expert and get a free price quote.